This is Blanchard E. Tual. He is a hero.
After the death of Elvis Presley, his father, Vernon – who was executor of the estate – entered in to a deal with Presley's long-time manager, Col. Tom Parker, to continue to manage King's career and Vernon – who had blindly trusted Parker for years – kept Parker in charge of the merchandising rights to Elvis' name and image. These agreements, in almost every instance, entitled Parker to MORE than 50% of the money made from Elvis merchandise, records, etc.
Before Vernon died in 1979, Priscilla Presley had pressured him to make her the executor of the estate, citing the welfare of Lisa Marie as her main concern. Vernon did so. However, with Cilla now in charge of things, she also maintained agreements with Col. Parker. The only reason I can think of for this folly was that Cilla and others were unaware of the extent to which Parker had benefited from one of the most lucrative singing careers ever known to that time. I can only think that as Elvis World was such an isolated place, no one thought anything was amiss or thought to get a second opinion.
Cilla petitioned the probate court to rubber stamp the agreement allowing Col. Parker to carry on as usual. But a judge was astonished to find that Parker routinely took more than half of Presley's earnings during the singer's lifetime and also that the estate would allow this to continue. I can only think that the judge thought that the best interests of a minor – Lisa Marie – were not being prioritized owing to the ignorance of her mother and guardians and that an independent investigator needed to step in.
Enter our hero, Mr. Tual, who, at the time, was a 38-year-old Memphis attorney. He was basically appointed to be Lisa's guardian ad litem – what they call it when someone can't look after themselves. After four months, Tual filed a 300-page report that stated that the estate should not continue with an agreement signed between two parties when one of the parties was dead, stating that "all agreements with Elvis Presley terminated on his death".
He recommend that the court not approve the 50% commission being paid to Parker because it was "excessive, imprudent, unfair to the estate and BEYOND ALL REASONABLE BOUNDS OF INDUSTRY STANDARDS". And to think that Tual had to specify that all monies DUE to the estate actually be PAID to the estate instead of to the Colonel. The report went on to say that Parker had been guilty of "self-dealing and overreaching" and having "VIOLATED HIS DUTY to Elvis and the estate".
But Tual was not done. He criticized the executors for giving Parker full reign. He claimed that documents supposedly detailing where money went were unsatisfactory and he strongly suggested that Parker be fully investigated to discover his net worth, his past income tax returns and also that the estate get a full audit from RCA detailing all the money they paid out and specifying where it went. Tual asked for the same audits to be provided from EVERYONE Parker did business with: movie studios, concert promoters and merchandisers. The concern being, obviously, that Parker had made barrels of money from all his side deals and Elvis had got the scraps.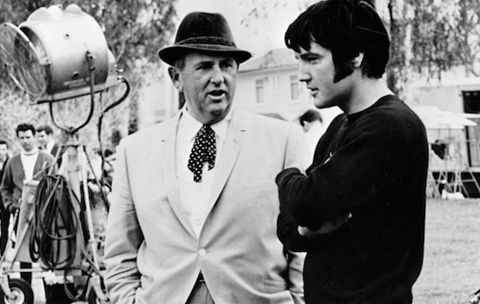 There's a lot to the Presley-Parker arrangement that I can't get into here. Parker's methods were unorthodox, to say the least. Tual was put off when the estate did not immediately thank him for his findings and banish the Colonel. Tual felt that the estate's executors and attorneys were "afraid of Colonel Parker". He was "stunned at the hold Parker seemed to have over the very people he had defrauded out of a fortune – $7 or $8 million in the last three years alone…". In Tual's opinion, Parker was trying his best to bleed Elvis in the 1970's before the singer inevitably passed away. Tual even went so far as to implicate RCA. Tual charged the Colonel and the King's record company with "collusion, conspiracy, fraud, misrepresentation, bad faith and overreaching". He claimed that RCA "paid off" the Colonel to keep Elvis in line and recording the way they wanted him to thus cheating "the most popular American folk hero of this century".
Tual also made an assertion that may be difficult for Elvis Scholars like myself to accept: "Elvis was naive, shy and unassertive. Parker was aggressive, shrewd and tough. His strong personality dominated Elvis, his father and all others in Elvis' entourage." I say this is difficult to accept; that is not to say that it is not accurate. While there is much more to the story and Elvis being passive about business is not all there is to it, Tual is basically correct. Elvis cared nothing about business – perhaps to his and his estate's detriment.
Tual delivered his report to the courts in August of '81 and the boom was lowered. The presiding Judge Evans ordered the estate to cease all payments to Parker. The judge even required the estate to FILE SUIT against Parker for fraud and ordered an investigation into RCA's dealings with King. Judge Evans went so far as to order the estate not to enter into any business with Parker without the court's approval. "The compensation received by Colonel Parker is excessive and SHOCKS THE CONSCIENCE of the court". Strong words.
In the end, the estate did not seek to enter into a prolonged and costly legal battle with Parker. Unbelievably, the estate was on the brink of bankruptcy in 1982. In order to extricate themselves from their business dealings with Parker, the estate, the executors and Parker reached an out-of-court settlement. Parker was paid $2.225 million to relinquish all claims to the Presley name and image and for his massive store of Elvis merchandise he had built up in warehouses over the years. Did Colonel Parker feel any remorse? Among his "collection" was a beloved toy of Lisa Marie's from her childhood. He kindly mailed it to Priscilla with a note hinting at all the items he had in his possession. He also dropped a word to the papers that he was planning to open his own museum in his home. This threat enabled him to ask for top dollar for his archives which the estate bought to display at Graceland.
Blanchard Tual went back to practicing law in Memphis. He can still be found there today at Tual-Graves PLLC; both his partners are women. He was recently included in the Mid-South Super Lawyers list, which names about 5 percent of Tennessee, Arkansas and Mississippi attorneys each year. The "Super Lawyer" thing is appropriate, says I. Blanchard Tual doesn't get enough love in Elvis World but he is a hero, nonetheless.
(**I got a lot of great info from Alanna Nash's fantastic book "The Colonel"**)